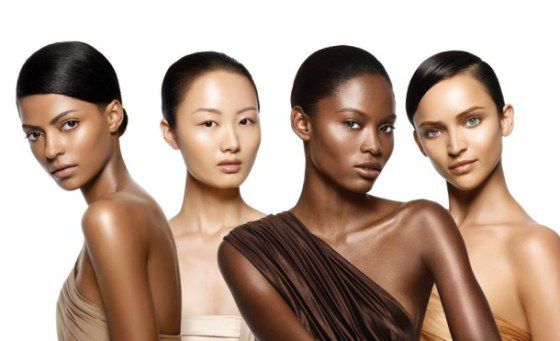 Today girls I will give you some tips to identify his type of skin and know his needs, whatever his skin tone, in order to use the products that suit you.
What kind of skin can we have and the signs to identify them.
The signs of a dry skin : it is often sensitive, if after you are cleansed the face you feel a feeling of tugging is that your skin is dry, it needs hydration. So you must use products exclusively for dry skin or for all types of skin that will avoid you to have surprises and give you imperfections. For removing makeup or facial cleanser prefer a cleansing milk rather than a gel, it will prevent drying more.
The signs of normal skin: it is soft, smooth and does not present much imperfection. Like all skin types it needs hydration use only products for normal skin or for all types of skin.
The signs of mixed skin: the cheeks and temples are normal to see dry and the T zone (chin / nose / forehead) is oily. To find out if you have mixed skin there is a very simple test to perform.
Wash your face dry well. Wait for thirty minutes to tap your T-zone for a few minutes using a tissue or paper if you notice that your paper or handkerchief is a little oily, that means you have mixed skin. If this occurs on the whole face it is that you have oily skin. Conversely if there is nothing at all it is that the skin is normal or dry if it pulls.
If you have mixed skin and that the cheeks are rather dry or normal used products for normal to combination skin rather than for oily skin. Because even if your T zone is oily, do not use too aggressive products because they will have the opposite effect and your skin will secrete more sebum.
The signs of oily skin: the shiny face with overproduction of sebum, sometimes with some imperfections and uneven skin texture. Despite being oily skin it must still moisturize and use products specifically for this type of skin. By cons do not abuse aggressive cleaners. You need products that help regulate the creation of sebum and not increase it.
We also have special skins:
Sensitive and dehydrated skin they can be dry, mixed or oily. For my part, I have dehydrated and sensitive combination skin, it needs particularly hydration both internally and externally. I only use products for normal to combination skin or for any type of skin. Having had many imperfections, so I decided to use products for oily skin and this was the disaster, my skin secreted more sebum and imperfections have multiplied. So I was able to meet a dermatologist who knew how to identify my skin and its needs. First of all, the best thing when you do not know your skin type is to use products for everyone. Using his advice I managed to get rid of some imperfections and improve my skin texture as well as uniform. I invite you to read my article about my facial care routine is thanks to all these gestures that my skin has improved, because having a beautiful skin goes through these small everyday gestures.
TIPS: use non-comedogenic products and for all types of skin if you do not know his own.